Ex-biker Sean Emmett fined for Dubai alcohol offence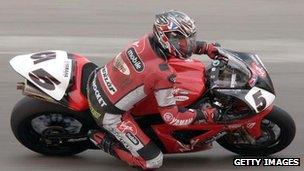 Former superbike racer Sean Emmett has been fined for an alcohol offence in Dubai, where his wife died in a fall from a balcony during their honeymoon.
Sean and Abbie Emmett, from Addlestone, Surrey, were staying in Dubai after marrying in South Africa in February.
Mr Emmett, 43, who won 19 British Superbike events during his career, was arrested when he went to a police station to complete paperwork.
He was fined 2,000 dirham (£350) for drinking alcohol without a licence.
Mr Emmett did not attend court.
His 27-year-old wife fell to her death from the couple's hotel room in Dubai on 19 February.
Dubai police do not believe there were any suspicious circumstances.
The Foreign and Commonwealth Office has been providing consular assistance since Mr Emmett's arrest and has confirmed that it is continuing to offer help to him and his family.
Dubai prosecutors told Dubai Misdemeanour Court that Mr Emmett had been drinking alcohol when he entered the police station in Al Rashidiya to complete paperwork relating to his wife's death.
The judge sentenced him in his absence.
The consumption of alcohol in the United Arab Emirates is only permitted in designated areas, such as licensed restaurants and bars attached to hotels.
Related Internet Links
The BBC is not responsible for the content of external sites.