Surrey father held at gunpoint makes Crimewatch appeal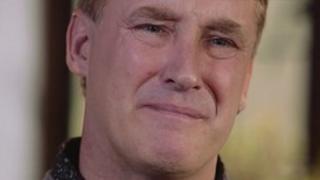 A man who was tied up with his wife and two teenage daughters and threatened with a gun by burglars has described how he thought he would be shot dead in front of his family.
In an interview to be shown later on Crimewatch, the man tells how he woke at his home in Surrey to see a man with a gun, pointing it at his head.
Police believe several men specifically targeted the Newchapel house in June.
Two rewards of £2,000 and £3,000 have been offered for information.
The victim said: "I looked up at the door to my right and then in walks a guy with a gun, pointing it at my head. I was shaking, I wasn't awake properly, I just thought it was all a dream."
'Cover you up'
He said the man shouted: "Open the safe. Where's the safe? Where's the safe? Or you'll get it."
"I remember them saying to the girls 'we're going to cover you up, don't look' and I was thinking to myself they're going to kill me now. They're going to shoot me in the head."
Det Insp Antony Archibald said: "It is every father's worst nightmare."
He said officers believed the family were specifically targeted because the burglars had very detailed demands.
The offenders raided the house in the early hours of 12 June taking high-value items including a Louis Vuitton handbag and a Rolex watch, he said.
It was thought about eight men aged between 18 and 25, all wearing masks, dark clothing and gloves, took part in the burglary.
The two rewards for information leading to an arrest and conviction have been put forward by Crimestoppers and the family.
Crimewatch will be shown on Wednesday on BBC1 at 21:00 GMT.