Waverley Conservative councillor defects to UKIP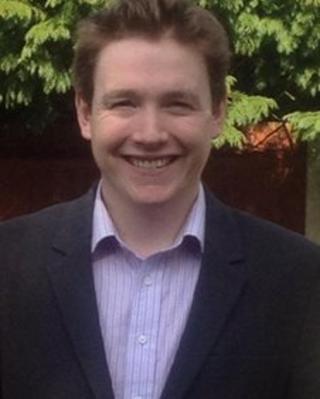 A Conservative borough councillor in Surrey has joined UKIP, saying the Tory party no long reflects the concerns of its grass roots voters.
Elliot Nichols, 24, has represented Farnham's Firgrove ward on Waverley Borough Council since May 2011.
"I am joining UKIP because I believe it is the only party that takes aspiration seriously," he said.
Councillor Robert Knowles, leader of Waverley's ruling Conservative group, said he was sorry to see Mr Nichols go.
Before his defection, the council was formed of 54 Conservatives, with two independents.
Waverley councillor Diane James, who sits as an independent member, stood for UKIP in the Eastleigh Parliamentary by-election in Southampton earlier this month.
She came second, with the Conservatives taking third place.
National debt
Last week, UKIP candidate Chris Browne won a seat previously held by the Conservatives in Foxhills ward in a by-election for Runnymede Borough Council.
Mr Nichols said the Conservative Party had not tackled the national debt, major issues in health and education or limited the size of the "bloated" state.
"Yes, I want our country to leave the EU, as UKIP does, but that is not my reason for joining the party," he said.
Mr Knowles said Mr Nichols had made it clear he did not have a problem with the Conservative Party in Waverley but with national policies.
"There is clearly a fairly large anti-European feeling among the majority of Conservative voters, now there is the mess in Cyprus this week," he said.
"Rank and file Conservatives are concerned about the amount of money that flows to Europe every day."
UKIP leader and South East MEP Nigel Farage said Mr Nichols was the 15th councillor to join UKIP this year.
"He will not be the last. Enthusiasm of people like Elliot is what drives us forward," he said.