Completion of Walton Bridge over the Thames on target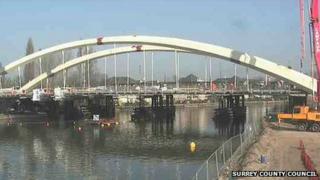 The first new road bridge over the River Thames for more than 20 years is on target to be completed during the summer, Surrey County Council has said.
The £32m Walton Bridge, linking Walton-on-Thames and Shepperton, will replace the two existing temporary bridges that have been in use since 1953 and 1999.
Builders are now laying the concrete road surface before realigning road junctions to connect to the bridge.
Demolition of existing bridges is due to begin in July,
Mark Bolan, of Surrey County Council, said the arch structure of the bridge would make it a visible part of the community, and it was also much wider than the other crossings, so allowing more traffic flow.
About 34,000 cars use the current road crossings each weekday.
Mr Bolan added the construction of the steel-framed bridge meant it should last for more than 125 years.