'Downton' house could unlock secrets of Surrey history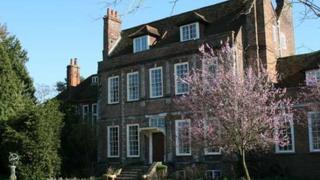 A hidden room found under the floor at a Surrey manor could help unlock mysteries from the area's past.
The 7ft square room, which has no doors and a bricked-up window, was found when computer cabling was being installed at Byfleet Manor, in Mill Lane.
The present house, used as a location in ITV's Downton Abbey, is on the site of buildings dating from the 11th Century.
Surrey Archaeological Society is to investigate the site later this year.
Byfleet Manor, mill and church are mentioned in the Domesday Book and the house was one of the favourite homes of Edward II in the very early 1300s before he became king.
Queen Anne of Denmark, the wife of James I, was granted Byfleet Manor in 1616 and rebuilt the house.
'No outward sign'
The current building, which is believed still to have sections from Queen Anne's time, is used as the home of the Dowager Countess Grantham, played by Dame Maggie Smith in ITV's Downton.
Its owner, Julie Hutton, said there was no outward sign of the hidden room until the cabling engineer lifted floorboards on the top floor.
"It is about 7ft high so easily standable in," she said.
"But in the room underneath there is no difference in the levels of the ceiling, which is about 14ft high."
"I am wondering if it could have been part of the remains of the palace built for Queen Anne of Denmark that was on the site before the house.
"This building that is here now is comparatively new - it is only 400 years old."
Ms Hutton said it is possible the room could have been a priest's hole linked to a tunnel in the garden rumoured to have led to Newark Abbey, which was demolished in the 1530s.
She said the house, now a family home, was believed to have links to other historical buildings in the area such as Chertsey Abbey and Hampton Court.
Richard Savage, a Surrey Archaeological Society expert on the medieval period, said tiles and fragments of carved stone from Newark may have been reused at Byfleet Manor.
He said a small amount of archaeological work had already been carried out at Byfleet Manor, with several test pits being done.
Geophysical surveys are now to be carried out across the gardens to locate where underground features may survive, including foundations from long-demolished buildings.
It is hoped these will be carried out this year, then it will be decided whether any further excavations will be done.