Surrey farmer suffers blow in fight to keep 'castle'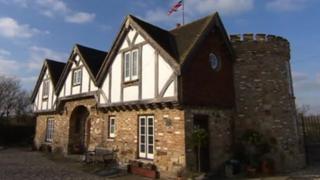 A farmer who is trying to prevent the demolition of a mock-Tudor mini-castle he built secretly in the Surrey countryside has suffered a setback.
Robert Fidler kept the luxury home, complete with turrets, near Redhill, hidden from view behind bales of straw.
He believed that once he had lived there for four years, he no longer needed planning consent.
But following a legal ruling, a planning inspector has now rejected his bid for the home to be declared lawful.
The inspector, Sara Morgan, said she agreed with an earlier Appeal Court ruling that because Mr Fidler had deliberately concealed the development, at Honeycrock Farm, the four-year period began only once he had removed the bales.
Now he is pinning his hopes on the council approving his retrospective planning application for the building that he and his family have been living in for more than 11 years.
Mr Fidler, who farms a herd of Sussex beef cattle on 250 acres of land in the village of Salfords, has been fighting Reigate and Banstead original council's enforcement notices, requiring the home to be torn down, since 2008.
He has vowed to take his case to the European Court of Human Rights if necessary.
'Unacceptable' precedent
He, his wife, Linda, and son, Harry, moved into the home in 2001 after their attempts to win permission to convert a neighbouring cowshed on the site dragged on for years without resolution.
But the council says that if Mr Fidler had succeeded in getting the council's enforcement decision overturned it would have created "an unacceptable precedent for development in the green belt".
Mrs Fidler said of the latest blow: "It will be very hard [to knock it down]. It will feel a complete waste of time and effort when we have put a lot of love and attention into the place."
Her husband said of the four-bedroom property, which also features a gravel forecourt, ramparts and replica cannon: "It's just a family home. Who is it hurting?"
In her ruling, the inspector said: "That [residential] use was concealed in the same way that the dwelling house itself was concealed."
The council says it will not decide what action to take until councillors have considered Mr Fidler's retrospective planning application.
Mr Fidler, who says he is happy for a clause to be included in any planning consent, tying the home's future sale to the continued use of the farm, said: "Hopefully [the council] will have the decency to realise we are not bad people and will find a way of allowing us to have a home on site.
"But I can assure you, we are never going to knock it down."