Surrey schools close as snow refreezes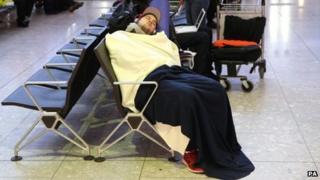 Drivers and pedestrians were warned of the dangers of ice on untreated surfaces on Tuesday after partially melted snow refroze overnight.
More than 120 schools were closed or partially closed in Surrey on Monday with only St Nicholas in Redhill reporting being closed on Tuesday.
Southern said it was running an amended train service timetable on Tuesday.
Heathrow Airport said the airport was "fully operational" but there would be some delays and cancellations.
It advised passengers to check the status of flights with their airlines before travelling to the airport.
South West Trains which ran a revised timetable on Monday said there would be a normal service on Tuesday through Surrey.
Surrey 4x4, a charity which helps the emergency services when they need an off-road vehicle, said it had been busy.
Spokesman Richard Earle said: "We have had lots of palliative care nurses and end-of-life nurses who have needed to be taken on their rounds to go and see patients urgently."