Ferrari theft: Police arrest man over missing £230,000 car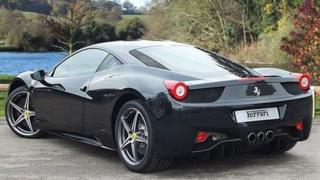 A 36-year-old man has been arrested in connection with the theft of a limited-edition Ferrari worth more than £230,000 from a dealership in Surrey.
Surrey Police said the man was arrested at a property in Reading, Berkshire, and was bailed pending inquiries.
The Ferrari 458 Italia, thought to be the only one of its kind in the UK, was taken from the Maranello garage on the Egham by-pass on 9 January.
Officers said the car had been parked behind the dealership.
CCTV footage showed two men cutting through security poles and the Ferrari being loaded on to a flatbed vehicle and covered up before being driven away.
The black car has an Italian flag racing strip running through its centre and the Italian flag sewn into the seats, police said.