Surrey schools closed as snow refreezes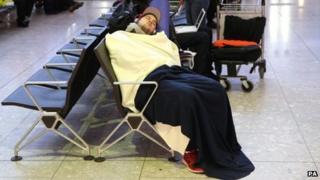 More than 120 schools were closed or partially closed in Surrey on Monday, after warnings of icy roads as melting snow refroze overnight.
Heathrow ran a 10% reduced schedule, with the situation worsening after 16:00 GMT because of low visibility.
Southern Rail ran an amended timetable, with alterations and cancellations and said the same would apply on Tuesday.
South West Trains ran a revised timetable on Monday but said there would be a normal service on Tuesday.
Heathrow said there would be no pre-emptive cancellations on Tuesday,
Roads were gritted while Surrey Police warned that snow falling on top of ice had caused some roads to be slippery.
'Recovered well'
Surrey 4x4, a charity which helps the emergency services when they need an off-road vehicle, said it had been busy.
Spokesman Richard Earle said: "We have had lots of palliative care nurses and end-of-life nurses who have needed to be taken on their rounds to go and see patients urgently."
Paul Watters, of the AA, said: "We seem to have recovered well for a Monday morning.
"Obviously it's the [untreated] side roads... where the problems lie."
Gatwick Airport said it was operating a normal service, although some flights were being affected by weather conditions across the UK and Europe.
It advised passengers to check the status of flights with their airlines before travelling to the airport.
'Brilliant service'
Train travellers reported a good service, with one passenger from Woking saying his train arrived early.
Another passenger travelling from Ash to Guildford said: "I checked the website this morning and it said services were running.
"It was a bit problematic on Friday and Saturday and I had to use the bus, but it's been all right. I think it's a brilliant service."
Vets were warning pet owners of the dangers of the icy conditions.
Noel Fitzpatrick said: "It's a dangerous time for pets out there, but mainly because people fall on them, or fall while carrying them."