Sacked Surrey councillor Ian Lake quits Conservatives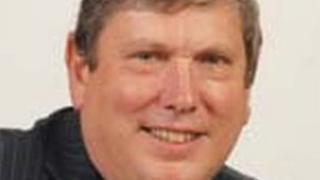 A Surrey county councillor who lost his cabinet post because of his link to an Olympics hospitality firm has resigned from the Conservative Party.
Ian Lake, who was forced to quit as cabinet member for transport last March, said he had lost confidence in the council's Conservative group.
He said he would consider standing as an independent candidate for Weybridge at the next county council election.
Surrey County Council's Conservatives said they accepted his resignation.
County council leader David Hodge ordered Mr Lake to stand down last year and referred him to the standards committee.
The row centred on Mr Lake's directorship of a consultancy company, Charterhouse Chancery Ltd, that offered Olympic Games hospitality packages to overseas visitors.
'Very busy job'
Mr Lake denied any wrongdoing in connection with the business which was set up in 2011, although he did not declare an interest at County Hall until a year later.
He said the company had not traded.
"Obviously I am sorry it wasn't declared, but I was very busy," he said.
"It wasn't at the top of my agenda.
"It was a dormant, non-trading company without a bank account and therefore it was not something that was as important as perhaps dealing with the snow, as we have done over the last couple of years.
"It is a very busy job looking after transport and the environment."
Breached code
SCC said in a statement its member conduct panel had now ruled that Mr Lake breached its code by failing to register a personal interest within the required time limits.
The panel also found he had breached the code by failing to disclose his personal interest at a meeting of the council's cabinet on 29 March 2011 and at the full council meeting on 10 May 2011.
Mr Lake said he also found himself at odds with the "dither and delay" in the Conservative Party nationally over the economy, Europe, the green belt, gay marriage, immigration and foreign aid.
He said he had yet to make a final decision about whether to stand as an independent.
"I will certainly think very seriously about doing that," he said.
"I would like to continue to serve the residents of Weybridge as I have done for the last 25 years."