Surrey's Heritage Farm Nurseries faces '167%' rent rise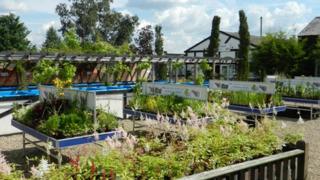 A couple who have invested more than £500,000 in creating a popular tourist attraction in Surrey say they face eviction over a 167% rent increase.
Jonathan and Fiona Daniels say the proposed rise is forcing them out of Heritage Farm Nurseries, near Banstead.
Surrey County Council, which owns the site, says it has a duty to council-taxpayers to negotiate a fair income from a successful commercial operation.
The couple will meet officials on Thursday to try to secure a compromise.
Mr and Mrs Daniels bought what was then a derelict smallholding off Woodmansterne Lane in late 2001, with a business plan to develop an aquatics business there.
Big increase 'inevitable'
The 10-year agreement, based on an agricultural rent, expired at the end of 2011, and the family has continued living and working there while trying to renegotiate the proposed rise.
Mr and Mrs Daniels acknowledge that they have built it into a successful business - including a play area with small animals, a reptile centre and cafe - and a large rent increase was inevitable.
But they say the figure proposed would put them out of business.
They say their compromise offers have been rejected, and MP Tom Brake was told there was no room for negotiation.
The couple, who have two children still living at home, have begun selling assets and laying off staff and have signed a tenancy for another property in anticipation of eviction after being given a deadline of 10 January.
However, since the family revealed on Facebook that the business was about to close, hundreds of people have bombarded the council with demands that the council back down.
Rise 'not viable'
And now the authority has agreed to meet the couple "for negotiations".
Mrs Daniels said: "We have worked 24 hours a day, seven days a week for 11 and a half years. We have been telling them it isn't viable, but until now they wouldn't listen."
Surrey County Council said in a statement: "Mr Daniels' rent has not been increased since 2001, when his business was farming. Since then he has diversified into retail, made substantial changes to the property and grown a successful business.
"While we applaud Mr Daniels' initiative, we have to ask a reasonable commercial rent, in line with the open market, as Surrey taxpayers cannot be expected to subsidise a successful private business.
"Nonetheless our aim is to help the business thrive, and part of the rent is a percentage of turnover which will help if there is a downturn in business."