Surrey Police: Limited edition £230,000 Ferrari stolen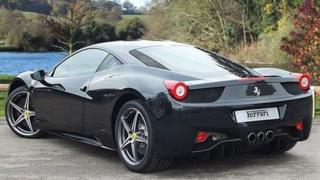 A limited-edition Ferrari worth more than £230,000 and said to be the only one of its kind in the UK has been stolen from a dealership in Surrey.
Surrey Police said the theft at the Maranello garage on the Egham bypass was "planned and well-organised".
CCTV footage showed two men getting into the dealership and the Ferrari being loaded on to another vehicle.
Officers said the Ferrari 458 Italia was parked at the rear of the premises when the thieves struck.
Police said a transit van pulled up at about 20:05 GMT on 9 January, and two men who got out used an angle grinder or similar equipment to cut through security poles.
About 40 minutes later, a flatbed-type vehicle was driven into the garage, where the Ferrari was loaded on to the back and covered with a sheet before being driven away, officers added.
The black £232,850 Ferrari has the Italian flag racing strip running through its centre and the Italian flag sewn into the seats, police said.