Farnham Brightwells land sale examined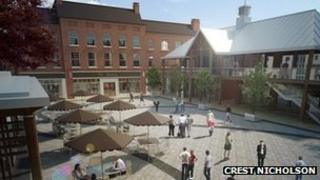 A 10-day public inquiry has begun into a land sale which is part of plans to develop a Surrey town centre.
Farnham's Brightwells scheme, which includes a town square, cinema, shops and 239 homes, was approved in 2008.
The inquiry is being held to resolve objections to a compulsory purchase order (CPO), Waverley council said.
An inspector had been due to look at two CPOs but the landowners of another site needed for the development withdrew their objections in December.
The council said that when it resolved that CPO last month, it bought a car park and a small area of land used for an advertising hoarding.
When the plans were approved, protesters objected to the loss of the theatre, increased traffic and congestion, loss of trees and historic features, and modern buildings close to a conservation area.
At the time, the council received more than 6,000 written representations.