Frimley Lodge Park memorial tree to be unveiled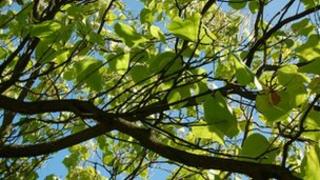 A memorial tree is to be unveiled in Frimley Green later this month after a suggestion on Facebook led to dozens of messages of support for the idea.
Surrey Heath Borough Council said a special ceremony would be held for the unveiling at Frimley Lodge Park.
The authority said having a tree for people to visit to remember lost loved ones was the idea of local resident Debbie Webb.
Her suggestion won the backing of other residents and the borough council.
Councillor Paul Deach, who took the idea to the local authority, said: "Many of us have lost loved ones and it is not always easy to pay our respects, as this can often involve long distance travel.
"In my own case, my grandparents were laid to rest in Manchester but this allows me to quietly reflect on their life in a beautiful setting close to my home."
People who visit the tree will be able to write a message on biodegradable rice paper and pin it to the bark.
The tree will be unveiled at 11:00 GMT on 25 January and will be blessed by the Reverend Larry Bain from Heatherside Church.