Surrey council announces five-year plan to repair roads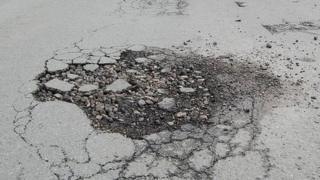 One in six roads in Surrey are in a critical condition - twice as bad as the national average, according to an official report by the county council.
The council is drawing up a five-year programme to solve the "root causes" and focus on roads that "will make a real difference to communities".
It says the current backlog of repairs would take 13 years to complete.
Ideas include using new surface materials and increasing the target for the number of miles of road replaced.
Many of the roads are in residential and rural areas.
Councillor John Furey, cabinet member for transport and environment, said one of the constraints previously "was the work ethic and also the manner in which we dealt with highway repairs and maintenance".
'Waste of money'
Mr Furey also stressed that parked cars were often an issue and that in future they would be moved.
"What's the point in sending a team to a road to find they can't start work and we have to abort," he said.
"It's a waste of residents' money and I'm not into that anymore."
The council ran a series of roadshows at the end of last year, asking residents for their views on the worst roads and for those which should be included in the proposed new road maintenance programme.
It said more than 1,500 suggestions were put forward, with named roads assessed for inclusion in the scheme based on condition and value for money.
The programme, called Project Horizon, is due to go before the council's cabinet for approval in February, before the work begins in April.