Shepperton Eco Park may face judicial review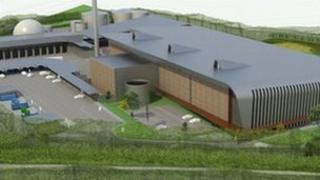 The Environment Agency could face a legal challenge after approving a new waste and recycling plant in Surrey.
Spelthorne Borough Council said it had concerns about pollution and safety issues at the Eco Park in Shepperton.
It applied to the High Court for a judicial review on Monday, but said it hoped litigation could be avoided.
The agency, which granted a permit in October, has said the Eco Park will not cause significant harm to human health or the environment.
Spelthorne council objected to the Eco Park from the outset, believing it was "fundamentally wrong" to put a waste plant so close to many hundreds of people's homes.
The plant, which will treat about 100,000 tones of waste each year, is being built on the site of an existing facility in Charlton Lane and will be operated by Sita.
'Residents' safety'
Surrey County Council, which approved the plans in March, said the plant would reduce the amount of waste sent to landfill.
Spelthorne said it applied for the judicial review to comply with the deadline, which ran out on Tuesday.
It has asked the Environment Agency (EA) questions on the legality of the permit conditions. The agency has said it will respond by 18 January.
"We look forward to the response of the EA and we hope that our concerns for residents' safety can be satisfied without the need for expensive drawn-out litigation in the High Court," said council leader Frank Ayers.
The agency said it held two consultations and made a number of changes as a result of people's responses before issuing the final permit for the Eco Park.
The agency said it increased dioxin monitoring from quarterly to monthly for the first six months and had also required a review of arrangements for the routing of the boiler protection vents.