Chertsey hospital's new hi-tech birthing beds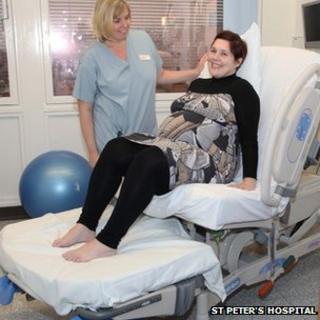 A Surrey hospital has spent £50,000 on eight new birthing beds in a bid to help reduce the number of Caesarean sections.
St Peter's Hospital in Chertsey said the new beds can be adjusted to different positions electronically.
The new beds can be spilt into two sections and arranged separately.
Louise Emmett said: "This means women can maintain more upright positions, such as sitting, kneeling and standing, which encourages natural birth."
A new midwifery-led unit is due to be built at the hospital later this year.
"The new beds are proving popular with staff and women alike as they are much easier to manoeuvre and keep women comfortable as they move around throughout labour," Ms Emmett said.