John F Kennedy death: Surrey memorial ceremony planned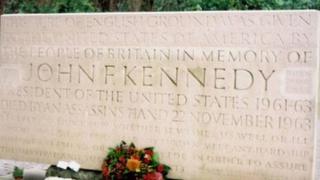 A special ceremony is to be held in Surrey to mark 50 years since the assassination of US president John F Kennedy, it has been announced.
A wreath will be laid at the Kennedy Memorial in Runnymede on 22 November, to commemorate the death of the 35th president of the United States.
The trust expects many more visitors than usual to visit the seven-tonne stone on the day.
President Kennedy was shot dead in Dallas, Texas, on 22 November 1963.
Following his death an appeal was launched to raise money for a memorial at Runnymede and for a scholarship scheme to enable British students to study at Harvard and the Massachusetts Institute of Technology (MIT).
Annie Thomas, secretary of the Kennedy Memorial Trust, said: "We tend to reserve wreath-laying for major anniversary dates and we are planning such a ceremony for the morning of November 22, 2013."
"We are expecting that there will be even more visitors in 2013 as it is the 50th anniversary of Kennedy's death."
The memorial site features a stone inscribed with words from the president's inaugural address in 1961, a 50-step pathway, hawthorn tree and American Scarlet Oak.
It was unveiled by the Queen in 1965 and is maintained by the National Trust.