Compton village revives lost pottery past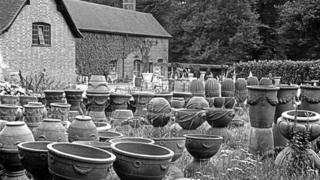 A Surrey village that once had a thriving commercial pottery industry, but saw it go out of business in the 1950s, is reconnecting with its past.
The Compton Pottery grew out of evening clay-modelling classes that Victorian artist Mary Watts ran for villagers at her home, Limnerslease.
She needed her students to help her build the village's cemetery chapel, and many of them went on to form the Compton Potters' Guild.
The pottery operated for more than 60 years before it closed in 1956, hit by debts, lack of profit and increasing competition.
But traces of its past can still be found scattered all over the village.
There are the potters' cottages in Withies Lane, a kiln in a private garden, local tile work on village shops, the cemetery chapel built by 70 local people, the house where Mary Watts lived with her artist husband George Frederic Watts and Watts Gallery which the couple built to exhibit his work.
'Best-kept secret'
Villagers have been working with the gallery to piece the history of pottery in Compton together and bring it alive again.
And the gallery has also started running terracotta-modelling classes in its learning studio, to replicate Mary Watts's early work.
Watts Gallery volunteer and steward Jane Turner said: "We all feel that we know Mary.
"The chapel and pottery were such an important part of the village in their day and people need to know that. We have been the best-kept secret in Surrey."
She added: "There are still a very few people living in the village who remember Mary. She only died in 1938. She was the lady of the manor, a very generous woman.
"She was very important for Compton, creating industry and giving people jobs."
Surrey resident Mary Wilkie, 97, remembers being taken to Watts Gallery as a child.
She had two aunts, Louisa and Emily Nunn, who helped to paint the chapel and she remembers how they cycled from Guildford daily to work on the building.
One of them already had a medal from Kensington Art School, she said. And one of her aunts went on to become an art mistress in Cape Town, after working with Mary Watts.
Rebecca Macpherson, who works in KD Fine Art Ltd, a shop on the gallery site, said she had found notes and letters from Mary Watts to her great grandmother, thanking her for some photographs.
Her great-grandmother, from Guildford, helped to paint the chapel.
Ms Macpherson still has the brooch that was designed by Mary Watts and made by Liberty & Co, and given to everybody who worked on the project.
The brooch has become one of the treasured objects that are helping to tell the story of Mary Watts and her husband, and everything they achieved.
'Rare opportunity'
Mark Bills, Watts Gallery curator, said a key element to piecing the story together was the gallery's planned acquisition of Limnerslease.
Limnerslease had been privately owned, divided and modernised, but recently both parts of the house were put up for sale.
The £5m project to buy and restore Limnerslease has been described by the Heritage Lottery Fund, which has backed the first stage of the project, as a "once-in-a-lifetime" opportunity.
Plans include recreating Watts's studio to give an insight into how the artist worked.
Mr Bills said: "You'll walk in, smell the paint and linseed oil, get a sense of what it was like, see the pictures stacked against a wall.
"We have so many things, paintings, equipment, palettes, materials.
"His decorative arts, fine arts and social life are encapsulated in the village, and it is all about completing that picture."