Leatherhead hedgehog rescue centre 'overstretched'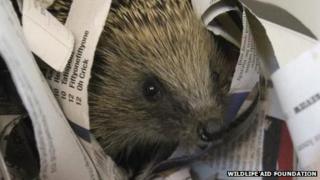 An expected influx of hedgehogs could cost an extra £40,000, a Surrey wildlife rescue centre has warned.
The Wildlife Aid Foundation (WAF) in Leatherhead is concerned it could reach capacity if the anticipated 300 hedgehogs are brought in.
The charity said it did not want to turn any patients away over the next few weeks as numbers rise from the winter average of 100 orphaned animals.
WAF said other charities were unable to take any more hedgehogs.
Simon Cowell, founder of WAF, said: "This year we are taking in hedgehog patients that have been turned away by smaller centres.
"It costs us £1 per day per hedgehog, so for the number we are anticipating this winter that could mean an additional outlay of £40,000 or more.
"This will make a big impact on our charity's already overstretched resources."
The charity said there are more than 2,500 hedgehogs in wildlife hospitals around the country.
"We feel that we are duty-bound to help all the injured and orphaned hedgehogs that we can, and to get them back out into the wild next spring when they are able to fend for themselves," Mr Cowell said.