Fire at Toad Hall Nursery in Woking disrupts children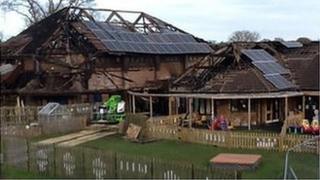 A suspected arson attack on a Surrey nursery has left anxious parents searching to find alternative places for their young children.
Toad Hall Nursery, in Goldsworth Park, Woking, will be out of action for some time following the fire on 2 December.
The group that runs it is looking for new temporary premises pending a decision on the future of the building.
But out of the ashes has emerged a new community spirit which has brought the parents closer together.
The fire, in the early hours, destroyed the Woking Borough Council-owned premises and forced up to 100 families to make new arrangements, some having to take their children to nurseries several miles away.
'Quite disruptive'
The nursery group does not know when it will be able to reopen but hopes to be able to provide some sort of service in the area "in the not too distant future".
Toad Hall chief executive Ruth Pimentel said: "The children have had to move to alternative nurseries, which has been quite disruptive for them, and we have had to deploy staff to various other nurseries to support our children settling in."
About 15 have been accommodated at other Toad Hall premises, in Ottershaw and Ripley.
But the majority have had to find spaces at rival establishments in and around Woking.
"The big disruption has been for the parents having to take time off to find alternative sites, and the emotional issue for them in having to settle their children again," said Mrs Pimentel.
It remains to be seen whether all will return to Toad Hall when it is back in operation - and that is not the only commercial headache for the business, which estimates the cost to it will be a six-figure sum.
Mrs Pimentel said: "We are looking to our insurers to help us out, but we have had to be aware that the children and families are our priority at the moment."
Christmas treat
And she has derived inspiration from the reaction of people in the local community amid the adversity they face.
"Since the fire, all the parents have rallied round and come together.
"Through our Facebook page, they have been making contact with other parents, arranging for children to play together.
"A lot of parents were very upset, but that community that we have got around our Facebook page has been very strong.
"One parent said she had made more friends in the last week."
And while Toad Hall awaits the results of council investigations into the structure of the Goldsworth Park building, the children left behind by the fire are in for a Christmas treat.
Staff are holding a Christmas party for them at the neighbouring Sea Cadets building, where they will also be reunited with those belongings and learning journals that could be recovered from the wreckage.
Two 19-year-old men arrested on suspicion of arson are currently on police bail pending further investigations.