London 2012 Olympic events 'raised £44m' for Surrey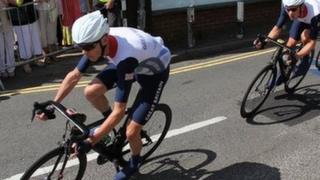 Olympic events that took place in Surrey over the summer raised an estimated £44m for the local economy, according to the county council.
The authority said about one million people visited the county during the London 2012 road races and time trials in July and August.
It estimated overnight visitors spent on average £75 and day-trippers £38.
Surrey Chambers of Commerce said the Olympic Games had also generated a lot of business for the county.
Chief executive Louise Punter said: "In the lead up there was a huge amount of money from the Olympic contracts.
"People weren't supposed to talk about it at the time but they are now more willing to speak."
'Positive feeling'
"There will be some smaller businesses that will have struggled a bit because people have spent on other things rather than their services," she added.
"Overall, certainly I can say there has been a positive feeling about the Olympics from the business community."
The county council also estimates the 225,000 roadside spectators that watched the 90-mile Surrey stage of the Tour of Britain raised about £7.2m.
County councillor Helyn Clack, cabinet member for community services, said: "The decision to invest in the Olympics and the Tour of Britain has paid off to the tune of £51 million.
"We were criticised three years ago when we were appointed an Olympics co-ordinator, but we persevered because we knew the Games had the potential for huge economic and cultural benefits in Surrey.
'Emulate Bradley Wiggins'
"The figures speak for themselves, with millions of pounds generated for the economy and pictures of Surrey beamed to television sets throughout the world, providing a boost for tourism.
"That success was furthered by the Tour of Britain and we look forward to hosting it again next year."
The cycle road race on the opening weekend of the Olympics took riders from the Mall, through west London, out to Surrey and back again, and included a 9.6-mile (15.5km) circuit around Box Hill.
A few days later Bradley Wiggins won gold in the men's time trial event which passed through Elmbridge and several towns and villages.
Following the Olympics, hotels and tourist organisations in Surrey said they had started taking bookings from cyclists who wanted to emulate Wiggins and ride the Olympic race routes in 2013.