Egham Olympic cameras show 'mentality of police state'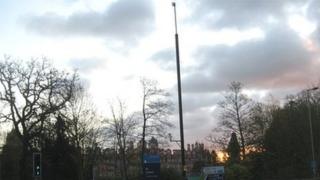 Plans to retain CCTV cameras installed as part of Surrey's security for the London Olympics echo "the mentality of a police state", protesters have said.
The five cameras, on 60ft (18m) poles, were sited along the A30 in Egham to monitor athletes staying on campus at Royal Holloway University.
Runnymede council, backed by Surrey Police, wants to keep the cameras, which would cost £10,000 to remove.
The council said it had received positive feedback from other residents.
Rowing and canoeing
Meher Oliaji, of Egham Chamber of Commerce, said: "It is a mistake."
"We think it is a retrospective justification for a decision that was made without being thought through.
"It isn't the sort of country we want to live in. It's the mentality of a police state."
Royal Holloway was the home of London 2012 athletes competing in the rowing and sprint canoeing events at Eton Dorney on the River Thames.
The £100,000 cost of the cameras was funded by the Home Office.
The Campaign to Protect Rural England told the council to have five cameras on a short stretch of road, three of which were in the green belt, was wholly disproportionate.
"Now the torch that was carried through Egham has been placed in Chertsey Museum, these intrusive cameras are Egham's only Olympic legacy," it said.
'Strategic location'
The council's corporate management committee is considering a recommendation the cameras be retained.
It said in a statement the cameras did not have to go through the planning process as they were covered by permitted development legislation.
"The impact caused by the height of the cameras and poles is greatly outweighed by the advantages of retaining the cameras and their ability to support our CCTV work and the Surrey Police... in this strategic location," it said.
"The cameras are valued by Surrey Police and have already played a key role in targeted policing."