Cranleigh arson attack destroys Sayers Croft roundhouse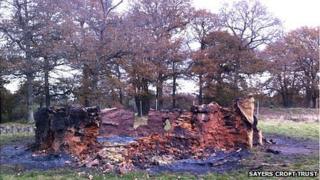 A reconstruction of an Iron Age roundhouse has been destroyed in an arson attack.
Surrey Police have described the incident in Ewhurst village, Cranleigh, as "a deliberate act of wanton vandalism".
Officers said on Wednesday the fire, which broke out at the Sayers Croft Trust over the weekend, was suspicious.
The charity's thatched roundhouse was built by volunteers and would cost £15,000 to restore.
'Wicked act'
Trust director David Quoroll said: "This is such a blow to us. The roundhouse inspired young people.
"It was a beautiful organic structure, almost a work of art, created through hundreds of hours of volunteer labour."
Mr Quoroll said the trust worked so hard for local young people it was almost "inconceivable" someone in the community could carry out "this wicked act of destruction".
He added: "It was visited by several thousand children every year and never failed to create a wide-eyed reaction."
The roundhouse had been a reconstruction of a pre-Roman dwelling that included handmade reproduction artefacts from the period including a loom, a hand-carved Celtic shield and oak furniture.
Police said the attack in Cranleigh Road happened between Friday night and Sunday afternoon.