Surrey's cattle get 'winter home' in National Trust deal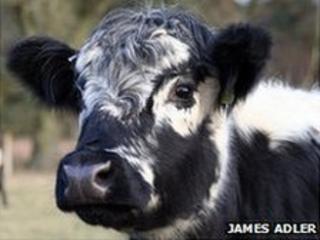 Cattle used to graze rare habitats across Surrey during the summer will spend winters on a local farm, under an agreement with the National Trust.
The Surrey Wildlife Trust (SWT) grazes about 300 Belted Galloway cows on its conservation heathlands to clear coarse grass smothering insects and plants.
Only about 35 cows are needed over the winter months to continue grazing a small part of the protected land.
The rest of the herd will move to grass fields at Lower Box Hill Farm, Dorking.
SWT has signed a 10-year Farm Business Tenancy with the National Trust for conservation grazing at the site between December and March.
'Sensitive grazing'
The land will also be used to make hay and silage in the summer.
James Adler, grazing manager, said the tenancy would provide the cattle with "a safe winter home".
"The National Trust land we're looking after is ordinary agricultural land and it's a grass farm that we'll be grazing.
"Hopefully we'll be grazing it relatively sensitively and trying to encourage wildlife onto the farm as well."
He added that the agreement would not affect access to public routes on the land.