Kevin Hurley defends 'zero tolerance mandate'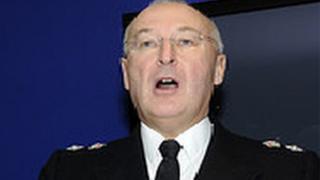 Surrey's police and crime commissioner (PCC) has denied his "zero tolerance" policy will lead to the arrest of everyone committing an offence.
"It means the public actually see the law is not being flouted in front of them," said Kevin Hurley, a former Scotland Yard borough commander.
Independent candidate Mr Hurley defeated Conservative Julie Iles in the second round of voting last week.
He said that, despite a low turnout, he had a mandate to take a firm line.
Surrey's overall turnout, of 15.7%, was in line with turnouts across England and Wales.
Mr Hurley, who takes up office on Thursday, was one of several independents to become PCCs.
Profits of crime
"The people who were interested and wanted to get involved turned up and voted," he said.
"What we actually had was the largest survey about what the public want from policing ever conducted in Surrey."
During the election, Mr Hurley promised to lead a "relentless focus" on anti-social louts, burglars and those dealing drugs to young people.
He said he would seize the profits of crime to pay for visible street policing and to put victims at the centre of the criminal justice system.
But on Monday he said most people did not fully understand that zero tolerance did not mean everybody committing an offence would be arrested.
"Zero tolerance is about not ignoring something that goes on," he said.
"For example, if there's a bunch of hooligans or people playing up and a police car goes by and they all cat call at the police car all too often the police car is just going to drive by and ignore it," he said.
"Zero tolerance means that police will stop the car, get out and speak to those people.
"If they moderate their behaviour and they take a telling off it will be left at that. If they don't, they will get a fixed penalty notice.
"And if they refuse to give their names and addresses - if the offence they commit is one where they can get arrested - they will get arrested.
"It means that if people are fly tipping or leaving rubbish outside their houses on the streets, together with the council, police officers will enforce that and tell people if you don't clear up rubbish outside your house you will be evicted."
Following Mr Hurley's election, Surrey Chief Constable Lynne Owens sent her congratulations.
"This is a new era in British policing and I, and my team, look forward to working with him when he takes up office," she said.