Surrey PCC election: Kevin Hurley beats Tory favourite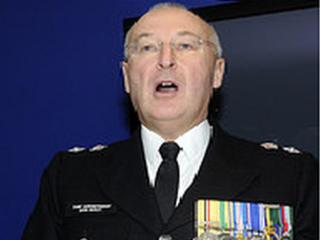 Former senior policeman Kevin Hurley has shocked the Conservatives to become Surrey's first police and crime commissioner.
The former Scotland Yard borough commander defeated Tory Julie Iles in the second round of voting.
As an Independent he campaigned on a "zero tolerance" policy and has pledged to "put some backbone" into policing.
Mr Hurley will oversee Surrey Police, appointing and dismissing the chief constable and setting the budget.
He was one of several independent candidates to win PCC elections across England and Wales.
The Conservatives have blamed voter apathy for their generally poor showing.
Low turnout
In a county where every constituency has a Conservative MP, Mrs Iles had been expected to win.
Just under 16% of the electorate voted - in line with poor turnouts around the country.
Turnouts ranged from a low of 13.1% in Spelthorne to 19.8% in Mole Valley, with an overall total of 15.7%.
Just 13 votes had separated Mr Hurley and Mrs Iles in the first round of voting, based on electors' first-preference votes.
As neither had anywhere near the total of 50% required for an outright win, the count went to a second round, with the second-preference votes of the four eliminated candidates reallocated to the leading pair.
That led to a clear victory for Mr Hurley, a former detective chief superintendent in the Metropolitan Police, who describes his policing methods as "no nonsense".
He said his victory showed the public wanted something done about anti-social behaviour, burglaries and drink and drug-related problems.
"I will lead a relentless focus on those who blight our lives," he said.
Surrey Chief Constable Lynne Owens has sent her congratulations to Mr Hurley.
She said: "This is a new era in British policing and I, and my team, look forward to working with him when he takes up office on 22 November."