Surrey's road salt bins 'full for winter'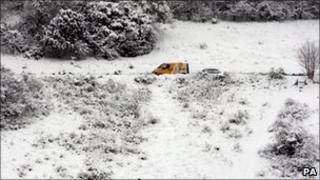 Grit bins across Surrey have been topped up with salt as part of drive to keep people moving over the winter, according to the county council.
The council said all 1,741 grit bins in the county had been filled and fitted with barcodes so their levels could be monitored.
The authority also said it had 17,000 tonnes of salt and a fleet of gritters.
Councillor John Furey said: "We've made sure our grit bins are filled up before any snow hits Surrey."