Surrey PCC: Candidates split over police station closures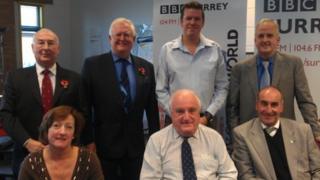 Candidates for election as Surrey's police and crime commissioner (PCC) have disagreed over the closure of police stations across the county.
The Labour, Conservative, Lib Dem, UKIP and two Independent candidates debated the station closures, which took place over the last year.
Jeweller Angela French told BBC Surrey she believed a lack of police presence contributed to four break-ins.
"It took a long time to get there and the criminals were gone," she said.
The Haslemere jeweller said: "We feel that there is nobody wandering around Haslemere at night either in a car or on foot and the criminals know this.
"They know they have got plenty of time to get away. Nobody has been caught and I am left to deal with the aftermath of that."
'Empty shops'
Labour candidate Robert Evans, the first MEP for London North West, said it was a mistake to close police stations in towns such as Haslemere and Farnham.
"I think that Surrey Police should decentralise," he said.
"In each of the towns there are empty shops that could be used as a police base that would serve as a visible deterrent."
UKIP candidate Robert Shatwell, a former Surrey police officer, said the presence of bobbies on the beat was essential.
"It really is a concern of mine," he said.
"What Angela was saying about the lack of police presence in Haslemere is a consistent theme right across county."
Conservative Julie Iles, a serving magistrate, said in some ways closing police stations had been positive.
"The co-location of police into council premises has reduced costs and it does give you better working across issues such as troubled families," she said.
"We need to make sure police aren't tucked away in cop shops on the high street or in police stations but equip them with the tools they need to do the job on the streets."
Current chairman of Surrey Police Authority, Peter Williams, an Independent candidate, said it had faced huge budget cuts.
"We had to take certain decisions and some were around closing police stations," he said.
"I don't regret them because it has put extra 200 police officers on streets of Surrey since 2010."
'Rapid response'
Lib Dem candidate Nick O'Shea, whose father and grandfather were both in the Surrey force, said police needed to be highly visible.
"The idea of having police shops is going to put police officers back in an office behind a desk, not in the community looking after people," he said.
"We need to ensure there is the ability to have rapid response in local areas like Haslemere."
Independent candidate Kevin Hurley, a former Metropolitan Police officer, said a visible street presence was very important.
"There is no money - that is why I will pay for it by seizing the assets of criminals," he said.
"Attacks on jewellery shops around Surrey is a specialist policing problem which requires a specialist response."