Surrey university in £4.3m oil research project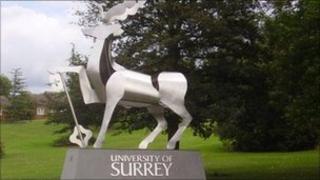 Oil giant BP is to establish a multi-million pound research group at Surrey university, it has been revealed.
BP said research by the scientists would be used to improve oil recovery and minimise the impact of heavy and viscous oil production globally.
The Guildford-based university said the oil company was investing about £4.3m ($7m) in the project .
The group, called the Centre for Petroleum and Surface Chemistry, is made up of chemistry department staff.
Dr Spence Taylor, director of the new project, said the investment provided an opportunity to acquire and apply scientific knowledge that would help to unlock heavier oils from their reservoirs.
He said: "This will enable the responsible exploitation of this valuable resource in years to come."
The university said the scientists involved were all post-doctoral fellows and post-graduate students, but it was hoped the initiative would also inspire new undergraduate and postgraduate programmes relating to petroleum chemistry.