Surrey energy users get 'collective' power to cut bills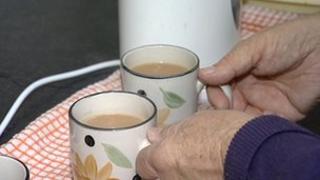 Residents and businesses in Surrey are among the first in the UK to be offered a chance to save on energy bills by joining a collective switching scheme.
Surrey County Council (SCC) said it hoped to cut up to £7.5m from people's bills, saving households £250 a year.
"This is one of the first and biggest schemes of its kind in the country," said Councillor Denise Le Gal.
Clare Francis, of comparison website MoneySupermarket, said the scheme would not be the best deal for everyone.
Collective switching, pioneered in Belgium and the Netherlands, allows groups of customers, often organised by local councils or a community groups to choose the best rate by changing tariff at the same time.
'Buying power'
An "auction" is held with energy providers with the lowest bid winning. People who sign up to Surrey's scheme will have to decide whether to switch in March.
"People are feeling the pinch in the recession," said Ms Le Gal.
"Surrey County Council is trying to bring together the collective buying power of businesses and residents to save a little bit of money that will go straight back into their pockets."
SCC said that if 30,000 households and businesses signed up for the scheme, the total saving could be £7.5m.
Cold calling
Scottish & Southern Energy was found guilty last year of using misleading scripts when trying to persuade customers to switch from their existing energy firms in a prosecution by SCC trading standards.
It led to the big six utility firms halting cold calling.
Ms Francis said many people believed switching energy providers was complicated and difficult.
"Actually it is one of the simplest things to switch," she said
"The collective bargaining power thing is a great idea and it's great to see initiatives like this.
"However it is still not a guarantee that is is going to be the cheapest deal for you so I would still encourage people to look around."