Dorking Museum to reopen following three-year revamp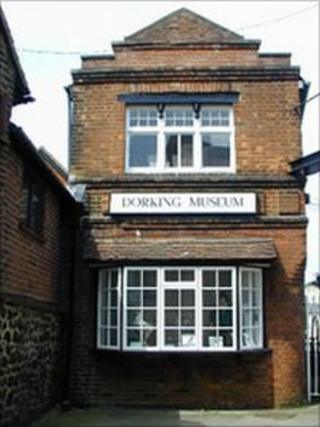 A Surrey museum is getting ready to reopen after a major refurbishment saw the building close for three years.
Dorking Museum, which is owned by Dorking and District Preservation Society and run by volunteers, will open to the public on Friday.
Museum chairman Nigel Arch said the museum's two buildings had been completely refurbished and turned into a "fantastic" place to visit.
During the revamp, the bomb squad disposed of an unexploded shell.
Mr Arch said: "When you look into stores that have been forgotten about for many years, you can find some interesting, or in this case slightly disturbing, finds."
He said police and army explosives experts dealt with the incident "very swiftly".
Mr Arch said the museum started before the war but three or four years ago its buildings had begun to look "slightly tired and old-fashioned".
Steward's bequest
He said: "Fortunately, a wonderful person left a legacy and enabled the museum to be completely refurbished."
The £500,000 bequest was left to the museum in 2003 by former steward Owen Russ.
A further anonymous donation of £5,000 came two years ago.
Mr Arch said: "That money together with the energy of all the volunteers has created a fantastic museum."
He said all the work had been carried out by volunteers and without public money.
Collections include fossils, the bones of two dinosaurs found locally, a recreated high street shop, a wartime section with a map of plane crashes and bombs that fell over the Dorking area, and Dorking's history as a location where Londoners used to visit for the day.