Magna Carta centre gets £5m Surrey pledge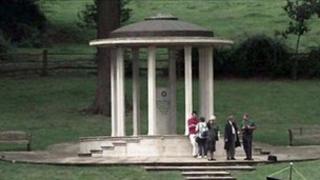 A proposed visitor centre on the site where the Magna Carta was sealed at Runnymede is to get a £5m contribution from Surrey County Council (SCC).
The centre, to be built in time for celebrations in 2015 to mark the 800th anniversary of Magna Carta, is intended to complement the existing memorial.
A bid by Runnymede Borough Council for £3,843,000 from the Heritage Lottery Fund was turned down earlier this year.
Building the visitor centre is expected to cost a total of £8m.
A report to SCC's cabinet, which approved the £5m funding in principle on Tuesday, said the borough council was campaigning to raise the additional £3m.
Increase tourism
"The sealing of the Magna Carta in Runnymede is a major part of Surrey's heritage and cultural identity and the 800th anniversary will be an occasion of national and international prominence and significance," the report said.
It added that the visitor centre would have a "significant effect" on the local economy and could increase its estimated income from tourism by 10%, or £13.6m, per year.
Cabinet member for community services, Helyn Clack, said no firm plans had yet been drawn up for the visitor centre.
"But I would hope that with that kind of financial contribution we can find something that everyone is going to really like and be proud of," she said.
The Magna Carta was signed by King John in Runnymede Meadow in 1215.
The treaty marked peace between the king and the barons who were in revolt against him and set out the principles of freedom under the law.
SCC's cabinet also voted to support Runnymede council's call for a national holiday on 15 June 2015 to celebrate the 800th anniversary.