Air ambulances to fly at night in Sussex, Kent and Surrey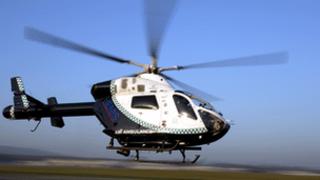 Air ambulances serving Sussex, Kent and Surrey are to fly at night from early next year, creating a 24-hour service.
The Air Ambulance charity is moving one of its two helicopters from Dunsfold Aerodrome in Surrey to nearby Redhill to cover the three counties by night.
It hopes its other helicopter based at Marden in Kent will develop a night service within the next two years.
The Civil Aviation Authority (CAA) recently changed flying regulations to allow helicopter night flights.
Kent, Surrey and Sussex Air Ambulance Trust's chief executive Adrian Bell said: "The charity presently treats almost 1,000 of the most severely ill and injured patients per year wherever they need us.
"This change in regulations will allow us to treat a further 300-400 patients per year who currently don't benefit from our care purely because of the time of day of their need."
The charity said it was moving an aircraft to Redhill Aerodrome for logistical reasons.
"At night the need will be less than in the daytime, so we only need to operate one," a spokeswoman said.
Voluntary cash
"But this does mean it needs to operate from a location from which we can adequately cover all of Kent, Surrey and Sussex in terms of time and fuel, so we don't have to refuel en route."
The helicopter and medical team at Redhill will fly during the day as well as at night.
The charity said it had identified a clear need for night operations after extensively monitoring 999 calls across the three counties, and would expand the service if the need arose.
The introduction of night flights will increase the charity's annual costs by about £1m to £6m. It relies almost entirely on voluntary donations for funding.
The life-saving ambulances fly hundreds of times a year at up to 150mph and can reach any part of Kent, Surrey or Sussex in under 20 minutes.