Cranleigh traveller park expansion approved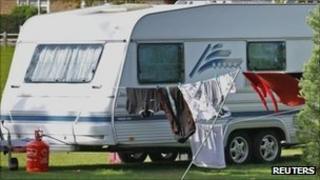 A travellers' site in Surrey is to be expanded despite objections, after the local authority approved an extra 35 pitches for mobile homes or caravans.
New Acres Caravan Park in Cranleigh can now house up to 85 pitches, although the size of the park will not increase.
Three parish councils argued there were enough already for the park's size and adding more bucked government guidance.
But Waverley Borough Council said the privately-owned site was very well run so it made sense to expand it.
It said its main aim was to discourage illegal sites and it wanted a solution that was fair for everyone.
'Well policed'
Borough councillor Mary Foryszewski (Con) said there was a need for more pitches and the right decision had been made.
"It's on a four hectare (10-acre) site, it's quite open and there's a lot of space," she said.
"I believe one of the criteria is that there's going to be a 6m (20ft) gap between any of the transit pitches anyway, and that's much more than in a residential dwelling.
"This particular site is a very well kept site, it's very well managed and very well policed."
Alford, Dunsfold and Hascombe parish councils all objected to the expansion, arguing there were three travellers' sites in the area already and the park was a long way from any amenities.