Guildford roadworks causing 'jams from hell'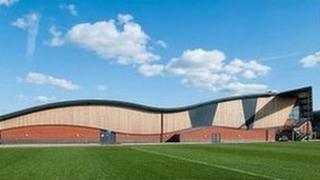 Roadworks are causing "traffic jams from hell" in a Surrey town.
The work is to replace a roundabout with traffic lights close to the Royal Surrey County Hospital (RSCH) and sports and research parks in Guildford.
The £4.5m scheme at Egerton Road and Gill Avenue work near the A3 is funded by Surrey County Council and the University of Surrey.
The Royal Surrey County Hospital has warned patients to allow extra time to get to appointments.
The hospital said ambulances on emergency calls used a separate entrance to the hospital and it did not expect response times to be affected by the roadworks.
A spokesman from the University of Surrey said: "Work is on schedule for the joint-funded £4.5m scheme to improve traffic flow at a busy junction which serves the north-west Guildford as an important access point on to the A3.
"There is a traffic manager on site who keeps the flow of traffic under constant review and can alter things as necessary."
'Don't go near'
Steve wrote on Twitter: "Stuck in the office. Traffic jam from hell outside the window. Come on #Guildford!"
He added: "Traffic around RSCH and Tesco is beyond belief. 10 weeks is not an option if businesses are to continue to operate."
Ron Mackintosh tweeted: "I come in from Farnham on the A31 to Millbrook, and dont go near that roundabout... it took me 1h 35 to get to work today!"
Fiona White the Liberal Democrat councillor for Guildford West on Surrey County Council, said: "I'm told that this should take about six weeks to complete."