Father runs 10 marathons in 10 days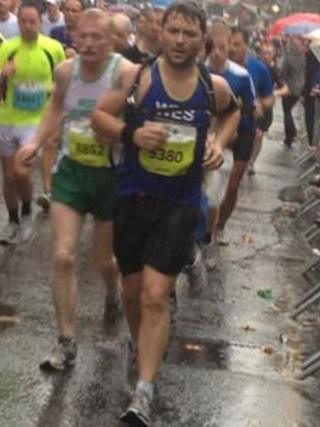 A father has run 10 marathons in 10 days to raise £15,000 for two hospitals which helped save his daughter's life.
Wesley Ranger from Worthing ran with two friends in 10 different countries from Lake Como in Italy to London.
His identical twin girls Jude and Elizabeth were born at 28 weeks at The Trevor Mann Baby Unit in Brighton, but Elizabeth was stillborn.
He said he managed to keep racing after his wife sent him a message halfway through saying Elizabeth was with him.
"Going into it I was full of trepidation and concerns about whether or not we were up to the challenge physically and mentally," he said.
"As the races progressed, we built up momentum and our confidence grew and the three of us kept each other going.
"There were pretty low moments and difficult times where you question your own ability to carry on and your own mental resolve to carry on.
"Fortunately for us, each of those dark moments didn't coincide with the other runners, so we managed to get each other through."
Mr Ranger, 35, ran with friends Nicola Papalini and Joe Hingston from Italy to Switzerland and on through Liechtenstein, Austria, Germany, Luxembourg, the Netherlands, Belgium, France to London.
His daughter Jude is now a healthy, thriving two-year-old.
The money raised will go to the Trevor Mann unit and Worthing Special Care Baby Unit which helped Mr Ranger and his wife Kerri through their loss in 2010.