Derelict Oxted gas holder 'should be demolished'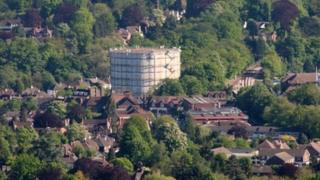 A derelict gas holder blighting a Surrey landscape should be demolished, residents have urged.
"It is something that has come to define Oxted unfortunately in a bad way," said Amanda Griffiths, of the Oxted and Limpsfield Residents Group.
"It's a complete monstrosity. It's rusting, it's ugly, it's derelict, and now it's redundant," she said.
Southern Gas Networks, which owns the structure, said discussions were being held with the local authority.
But in a statement, it said: "Currently there are no plans to demolish the gas holder, which was constructed in 1967."
'Viable proposals'
Piers Mason, chief planning officer at Tandridge District Council, added: "It does look as if we're making fairly good progress on getting a scheme together that would take down the gas holder and replace it with something that residents would find more acceptable.
"The owners have some viable looking proposals on the table at the moment."
Ms Griffiths said it was frustrating that the gas holder was in a very central location that could otherwise be much better used.
"We've been talking with the owners long enough now, it's time to actually get something done," she added.