Horrors of war 'soothed' by Combat Stress garden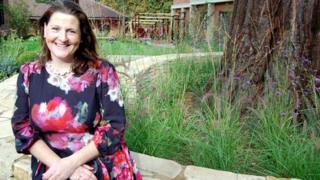 It is a garden without the colour red, with clear sight lines through trees and benches where bombs cannot be planted underneath.
Its purpose is to help sooth ex-servicemen and women who are recovering from post traumatic stress disorder (PTSD).
It is based in the headquarters of Combat Stress, in Leatherhead, Surrey, a charity set up in 1919 to help shellshocked veterans of World War I.
The charity's workload has risen rapidly in recent years, bolstered by veterans from Iraq and Afghanistan.
Its base has recently undergone a multimillion-pound redevelopment, expanding its capacity to treat more patients.
An important part of this is the new therapeutic garden, designed by Fi Boyle, whose husband was a former soldier who suffered from PTSD after leaving the Army.
'Clear sight lines'
She said: "There are no reds, yellows or oranges, because they are colours that are associated with danger.
"You have to think about clear sight lines as far as possible, by using multi-trunk trees you can see through. This stops them feeling like someone can creep up on them.
"The benches have been designed with a high back, like a blast shield. There are also no legs, so bombs could not be hidden underneath."
Mrs Boyle, who won a silver at the Hampton Court Palace Flower Show for its design, said the attention to detail was important as PTSD can be triggered by a change in light, movement, colour and touch.
"It's about making the garden feel safe," she said.
Dr Walter Busuttil, director of medical services at the charity and a consultant psychiatrist, said referrals had risen rapidly.
In the seven-and-a-half years leading up to March 2011 there were 1,073 veterans referred to the charity who had served in Iraq or Afghanistan.
But between March 2011 and March 2012 there were 500.
He added that overall there were about 1,500 new cases a year, with a 72% increase over the past six years.
'World closed in'
The average amount of time it takes for a veteran to seek treatment for PTSD is 13 years.
However, Dr Busuttil said with more awareness of the condition, averages for Iraq and Afghanistan veterans had dropped to two years.
"I treated an 18-year-old lad who had just got back from Afghanistan with raging PTSD," he said.
"My next patient was a man in his 90s and was a tailgunner in a Lancaster bomber during World War II. His wife had just died and it brought back all the memories of his comrades dying during the war."
There are a range of different treatments at the charity, with the most severe being a six-week residential course.
Chief executive Andrew Cameron said: "The six-week course is for when the fabric of your life is falling apart.
"The garden helps to deinstitutionalise this place, as for a lot of our patients the world has closed in on them.
"They won't get on a bus or train as it won't stop when they want it to. And they can't use shops or go out in public.
"So we want to make things as normal as possible."