Epsom man Winston Fernandez 'left for dead' by prostitute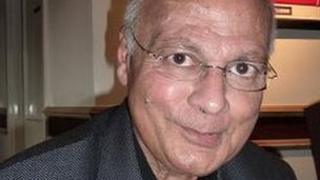 A lonely old man who took comfort in alcohol and used women from escort agencies for sex was killed by a Russian prostitute, a jury has heard.
Natalia Woolley, 38, of West Kensington, London, denies murdering 69-year-old Winston Fernandez in January this year, at his Surrey home.
Mr Fernandez died during a fight, Guildford Crown Court heard.
He suffered multiple injuries and was dead or left for dead by the time she left his Epsom home, jurors were told.
The court heard Miss Woolley, of Baron's Court Road, was registered with two agencies - Diamond Escorts and 24-Carat Escorts - and used the names Lenka and Alice.
The agency websites showed her in various poses and one described her as "incredibly sexy with a curvaceous body", jurors were told.
'Heavy drinker'
Mr Fernandez saw Miss Woolley a number of times in the months leading up to his death and wrote a review on her web page which said he was "addicted to her," the court was told.
The court heard Mr Fernandez lived alone in Longdown Lane North, his wife had died in 2000, he was estranged from his two sons, and he was sickly, reclusive, and an alcoholic.
Opening the prosecution, William Saunders said: "He was a lonely, difficult old man who frequently found comfort in alcohol. He had also started to use the services of girls from escort agencies. He used them for company and for sex."
Mr Saunders said Mr Fernandez asked Miss Woolley to go to his home on the evening of 16 January and by mutual arrangement.
He said: "Miss Woolley was the last person to see him alive. By the time she left in the early hours of January 17, he had suffered multiple injuries and was left dead, or left for dead. He was not found until February 13."
Mr Saunders told the court Miss Woolley cut his telephone lines before she left.
Mr Fernandez had also been with another escort who called herself Emily Jane, in the early hours of the day he died, and she had been concerned about how unsteady he was, he said.
Jurors were shown CCTV of Mr Fernandez at a bank in Epsom on the afternoon of his death to demonstrate his unsteady walking.
The court heard Mr Fernandez later suffered a cut to his head when he fell over in a supermarket.
The case continues.