CPRE in judicial review bid over Surrey Beaverbrook estate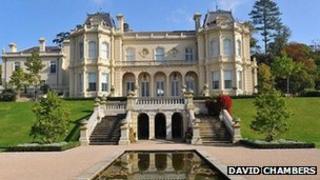 Campaigners are preparing for a judicial review after plans for a hotel and golf course at Lord Beaverbrook's former Surrey home were approved.
The Campaign to Protect Rural England (CPRE) said it wanted Mole Valley council's decision to be looked at in the light of "recently acquired-facts".
The CPRE claims the Cherkley Court plan will harm biodiversity and has said the county already has 140 golf courses.
But Mole Valley council said there were many advantages to the scheme.
Andy Smith, from the CPRE, said the estate near Leatherhead was in the green belt and in an area of great landscape value. He added that part of the site was in the Surrey Hills Area of Outstanding Natural Beauty and was a designated special area of conservation.
"The environmental damage that is going to be done creating a golf course and a leisure complex on this site is absolutely wrecking the biodiversity," he said.
Mr Smith said the CPRE did not believe the council had undertaken proper environmental impact assessments.
'Oligarch fears'
He added: "We are preparing the case for a judicial review [and] trying to get the process by which the council made this decision looked at in the light of recently-acquired facts, so I think we're not going to let it rest."
Councillor John Northcott, cabinet planning spokesman, said the advantages of the scheme outweighed points made by objectors.
He said: "A golf course in the green belt is perfectly consistent with policy. Virtually every golf course in Surrey is probably in the green belt somewhere."
Mr Northcott said the development would see the historic, privately-owned house reopen for public visits.
Cherkley Court was closed to the public in 2009 due to falling visitor numbers and put up for sale the following year with an asking price of £20m.
"It could have been bought by an oligarch and closed to the public," he said.
He said the development would provide new public rights of way across the estate, and create nearly 200 jobs.
"It's a matter of argument as to what extent the biodiversity will be damaged. It will be altered slightly but whether it will be damaged is another question," he added.
A statement from the developers and owners of the house, Longshot, said: "We're delighted that planning permission been granted. This represents a huge step forward."
The estate was the home of press baron Lord Beaverbrook and his family between 1910 and 1995.