Cost to Surrey taxpayer counted as Guilfest stops trading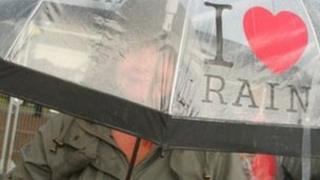 A Surrey music festival that ceased trading could cost Guildford Borough Council tens of thousands of pounds, council leader Tony Rooth has said.
Organisers of Guilfest have said the business is in the hands of an insolvency practitioner after poor ticket sales this summer.
Tony Scott, from Scotty Events, which ran the event, has said money is owed to the government, police and council.
Cash owed to Guildford council was still being calculated, Mr Rooth said.
He said: "The council is still working out the numbers and obviously the police and other bodies are doing the same.
"It will be some money. Obviously it's taxpayers money but in a sense it couldn't be avoided this year.
"I suspect it will be in the tens of thousands."
Heavy rain
Mr Rooth said Guilfest had always paid rent to the local authority for the use of Stoke Park, and council staff had also been involved in clearing up after the festival.
On Tuesday, Mr Scott could not give an estimate of the money owed to public bodies because he said the costs of using Stoke Park had not been finalised.
But he said Guilfest's total outstanding debts to public bodies and individuals were about £300,000.
Mr Rooth, who is stepping down as council leader with a replacement to be appointed next month, said he was sure the council would look at what would be possible in terms of holding a festival in the town next year.
The councillor, who attended Guilfest this summer, said the festival attracted people to the town and boosted business in the area.
This year's event was Guilfest's 21st festival. Organisers attributed poor ticket sales to the worst weather conditions in its history, along with intense competition from other events.
Jools Holland, Olly Murs and Bryan Ferry were among headline acts. About 20,000 people were expected on each of the three days.
But Mr Scott said the park turned into a "quagmire" by Saturday and a "sticky bog" by Sunday, after heavy rain.
Surrey Police also issued a statement which said the force was looking into recovering the costs for the provision of private hire policing, after the organisers of Guilfest announced the company had gone into administration.