Alps family murder: Police complete Surrey house search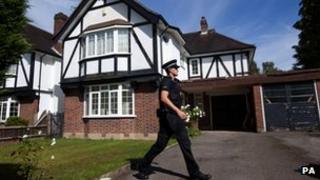 Police investigating the murder of a British family in the French Alps almost three weeks ago have completed the search of their home in Surrey.
Detectives pulled out on Monday, having scoured the house in Claygate for clues to the killing for the past two weeks.
Saad al-Hilli, 50, was shot with his wife Iqbal, 47, his mother-in-law and a cyclist near Annecy. Daughters Zainab, seven, and Zeena, four, survived.
French and British police have formed a joint task force for the investigation.
Surrey Police said although the initial search of the house had ended, inquiries remained active and officers would still be guarding the property.
'No borders'
The family were murdered in their car while on holiday near Chevaline, close to the tourist destination of Lake Annecy.
Zainab was shot in the shoulder and sustained head injuries while her younger sister Zeena hid under the skirts of her mother and grandmother.
Officers have been investigating Mr al-Hilli's work as an engineer, his family connections and possible links in Iraq, where he was born.
The investigative team, comprising the Surrey force, French police and French magistrates, aims to speed the flow of information between the two countries.
Annecy prosecutor Eric Maillaud, said the team would have full access to the case "as if there were no borders", but admitted progress had been slow.
"It is an investigation that risks lasting an enormously long time," he said.
"Often investigators have a theory in the first hours of an investigation. This time we have no idea."
An ex-RAF pilot who first came across the murder scene has previously told the BBC of the difficult decision he made to leave Zainab bleeding on the ground while he went to seek help.
Brett Martin said she was the first person her saw, as she was stumbling around badly injured.
Mr Martin placed her in the recovery position but faced a "dilemma" after finding his mobile phone had no reception.
He said he felt Zainab's injuries would have worsened - "perhaps killed her" - if he had carried her with him.