Kray paintings sold at Woking auction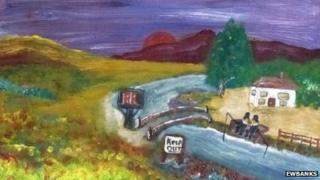 Two paintings by the notorious Kray twins have been sold at auction in Surrey for nearly twice the estimate.
The landscapes, one by Ronnie and one by Reggie, were painted by the London gangsters when they were in prison.
Auctioneer John Snape said the pieces were expected to fetch between £200 and £300 each but went for £750 and £450.
The paintings, which were being sold by an ex-inmate, went under the hammer at Ewbanks Auctioneers in Woking on Thursday to two separate phone bidders.
Mr Snape said the pieces were being sold by a man who said he had swapped them for tobacco in prison.
He said the auction house had sold quite a few Kray pictures over the years, with two in the last sale.
'Very childlike'
He said: "They did paint quite a few of the pictures over the years while they were in there."
But he said the appeal of Kray memorabilia was the name rather than the work.
"It's not the actual pictures," he said. "The pictures are very childlike in many many ways, but it's just owning a bit of the notoriety and a little bit of the history that they have created around themselves.
"That's what adds the value and what makes them worth a little bit more."
The landscape by Ronnie, of two figures fishing by a stream, sold for £750.
And the painting by Reggie, a landscape with figures in a boat and a castle in the distance, was auctioned for £450.
Both works were signed by the Krays.
The Krays were jailed for life in 1969, with a recommended sentence of 30 years, for two separate murders in London.
Ronnie died aged 61 at Wexham Park Hospital, Berkshire, in 1995 after suffering a heart attack.
Reggie died from cancer at the age of 66 at the Town House Hotel in Norwich in 2000.