Expelled Brighton Green councillor in gay vote row to appeal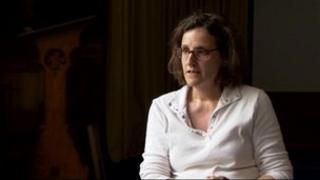 A Christian councillor who voted against allowing gay couples to marry and was expelled from Brighton's Green group is to appeal against the move.
The Green group has ratified a decision to expel Christina Summers.
Ms Summers, now an Independent but still a member of the national Green Party, has said the decision was wrong and unfair and she will appeal.
She voted against a motion on government plans to allow gay marriage, defying Green Party policy.
Speaking during the council debate on 19 July, Ms Summers said: "When you touch marriage, you're touching family and you're hitting at the very heart of God and I have an enormous problem with that."
An inquiry panel recommended her expulsion after concluding she was in breach of a written undertaking.
This stated that if she was selected as a candidate and elected to public office, she would uphold and advance the values of "equality for all people, regardless of race, colour, gender, sexual orientation, religion, social origin or any other prejudice".
Following the decision, Ms Summers said the Green Party was discriminating against Christians, but the party said it defended free speech and freedom of beliefs.