Car hits upstairs bedroom in Epsom as owners sleep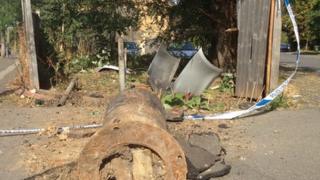 The occupants of a house in Surrey escaped unhurt after a car smashed into their bedroom while they were asleep.
Police said the Lexus went round a bend in Bridge Road, Epsom, and "mounted" an Audi parked outside the house before hitting the first floor master bedroom.
Considerable damage was caused to the house but the occupants were unhurt.
Three men in the Lexus were treated for minor injuries at Epsom Hospital after the crash at 03:00 BST on Sunday. A number of other cars were also damaged.
A postbox, road sign and fence were destroyed. Surrey police have appealed for any witnesses to come forward.