Sand lizards returned to Farnham Heath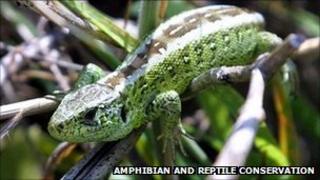 Dozens of sand lizards - one of Britain's rarest reptiles - are to be released on heathland in Surrey as part of a three-year conservation project.
A group of 40, bred in captivity, will be set free on a reserve on Farnham Heath, where the animals once lived.
The Amphibian and Reptile Conservation (ARC) group plans to release more every autumn on the site owned by the Royal Society for the Protection of Birds.
Native populations can now only be found in Surrey, Merseyside and Dorset.
The lizard was once commonly found on dunes and heathland, but became endangered after the gradual destruction of their habitats.
They are believed to have been lost from the Farnham Heath site when it was planted with a commercial conifer crop after World War II.
The ARC, under licence from government conservation authority Natural England, has a captive breeding population originally drawn from sites in south-west Surrey.
Britain's rarest native lizard is protected by strict laws making it an offence to kill, injure, capture or disturb them.