Royal Holloway golden postbox for Sophie Christiansen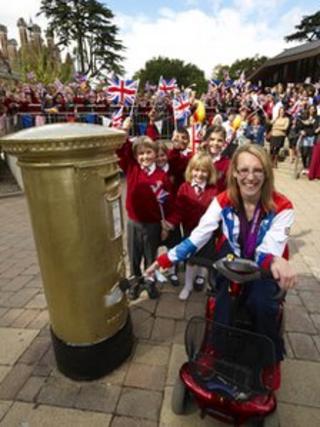 Paralympics champion and triple gold medallist Sophie Christiansen has put the finishing touches to a golden postbox in Surrey.
The postbox, painted in her honour, is on the campus of London University's Royal Holloway College in Egham, where the dressage star studied.
Ms Christiansen stayed at an athletes' village on the campus before competing in three dressage events this summer.
She went on to become the first Briton to win three golds in the Paralympics.
A ceremony was held at Royal Holloway on Friday to celebrate her success and unveil the postbox.
Local schools and the Mayor of Runnymede, Councillor Linda Gillham, also attended.
Ms Christiansen, who has celebral palsy, graduated from Royal Holloway with a Masters degree in Maths in 2011 and became an honorary fellow of the college in May.
She started riding at the age of six with the Riding for the Disabled Association.
While studying at Royal Holloway, she competed in the Beijing Paralympic Games and won two gold medals, and was a member of the college's Student Talented Athlete Recognition Scheme.
The postbox was painted by Royal Mail and the dressage champion completed the final brushwork on Friday.