Brighton Green councillor 'should go' in gay vote row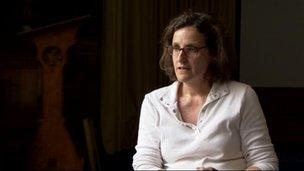 A Christian councillor who voted against allowing gay couples to marry should be expelled from Brighton's Green group, an inquiry panel has said.
Christina Summers voted against a motion on government plans to allow gay marriage, defying Green Party policy.
An inquiry panel which examined the issues gave its findings on Monday.
Ms Summers said the Green Party was discriminating against Christians, but the party said it defended free speech and freedom of beliefs.
The panel has made recommendations to the Green group which will vote on the issue.
The councillor, who supports same sex relationships and civil partnerships, but not gay marriage, said: "The recommendation to expel me has been made. My fellow Green Party councillors now have to vote on it.
"Of course I don't want it to happen and I don't agree with it."
She added: "It's discriminatory against Christians. It's a typical symptom of prejudice, blatant prejudice.
"It raises a big question - can Christians serve in the public realm? They are saying don't bring your faith into politics."
Speaking during the council debate on 19 July, Ms Summers said: "When you touch marriage, you're touching family and you're hitting at the very heart of God and I have an enormous problem with that."
'Defender of free speech'
A statement from the Green Party said: "The panel does not have the power to expel Councillor Summers from the party or to remove her as a councillor.
"But it has concluded that, in relation not to her speech or vote in the council chamber or her sincerely held religious views but in relation to her breach of her own written undertakings as a council candidate and her recent behaviour towards the party, she should be expelled."
The statement said the inquiry was not about her religious views or her right to voice her beliefs and it added the Green Party was a fierce defender of free speech and freedom of beliefs.
But it said Ms Summers had made a written undertaking that if she was selected as a candidate and elected to public office, she would uphold and advance the values of "equality for all people, regardless of race, colour, gender, sexual orientation, religion, social origin or any other prejudice".
The panel looked at whether she was in breach of her undertaking as a candidate.
Related Internet Links
The BBC is not responsible for the content of external sites.