Paralympic Games: Former army medic Rory Mackenzie takes star role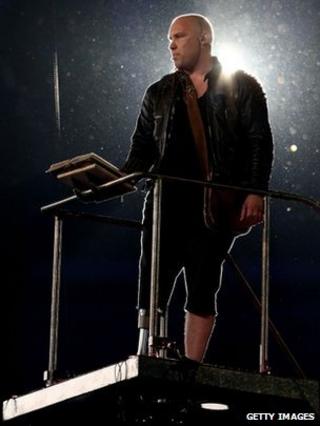 He took a starring role in the closing ceremony of the London 2012 Paralympics but Rory Mackenzie still cannot quite believe it.
Mr Mackenzie, a former army medic who lost a leg in Iraq, was raised 40ft above the Olympic Stadium to introduce the "Festival of the Flame".
Even so, he was unprepared to see his picture on newspaper front pages as he made his way to his home to Surrey.
"I'm like, crikey, that's me. It's a surreal feeling," he said.
"There is the stadium and there is this little figure in the middle at the stop of the stairs."
L/Cpl Mackenzie was wounded in a roadside bomb explosion in January 2007 when his Warrior Armoured Fighting Vehicle was on its way back to base.
Fellow soldier, Pte Michael Tench, 18, died in the blast.
Mr Mackenzie was asked to audition in August for the leading role in the closing ceremony through his involvement with the Help for Heroes charity, set up in 2007.
"The rehearsals were nerve racking enough," he said.
"What a show. It was so much fun. I had the best seat in the house - bar none.
"The inspiring thing for me was to see the ability of the disabled people. I am newly disabled - only five years down the line - so to watch their courage is an inspiration.
"It was a sheer honour to take part."
Mr Mackenzie lives in Capel, near Dorking with his Spanish girlfriend Lara.
During his recovery he spent a year at Headley Court military rehabilitation centre near Epsom, where new facilities built with funds raised by Help for Heroes were opened by Prince William in 2010.
'Dark and depressing'
"I know lots of other soldiers have nothing good to say about the rehabilitation process but I cannot fault it," he said.
"For me it was flawless, but the guys get a lot more support now from Help for Heroes."
Mr Mackenzie, who was born in South Africa to British parents, said the early days after he was wounded were "very deep, dark and depressing".
"I thought I would never run, never cycle, never horse ride," he said.
During his rehabilitation he was taken skiing by the Ministry of Defence organisation Battle Back, which organises sports activities for wounded service personnel.
"It changed my life," he said.
In February this year he was one of four severely wounded and two able bodied ex-British military servicemen who completed a 51-day expedition to row across the Atlantic from the Canary Islands to Barbados.
A book about the trip, The Row to Recovery: From the Battlefield to Barbados, by Sam Peters, is being published later this year.
"We had nothing but dramas - it was almost comical how everything went wrong," said Mr Mackenzie.
"But because of our sheer stubbornness and drive we persevered and we did it."
He was discharged from the Army three months ago and is currently working as a motivational speaker.
"It is a big change - there is a lot going on, but I am not going to pass up any opportunity that comes my way," he said.